Yesterday me and the hubs celebrated 4yrs of marriage! I the hopeless romantic type And will quirky messages as if im still in high school! Lol i tried to surprise him with this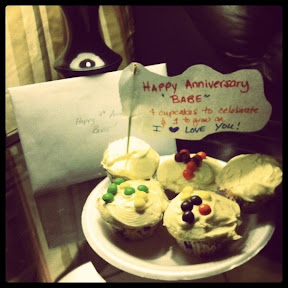 But if you know my husband his morning routine its always in a rush just so he can get that exta zzzzz! So he totally didnt see it! I was a bit bummed but sucked it up and proceeded on with my day since my co workers bday is the same day as our celebration. I wanted to make it big for her like she did for me so i decoeated her office as so
She absolutely loved it! Its always a plus when you can make so happy on their special day! As the morning went on someone showed up with these
We swore it was for my co worker but lo and behold they were for me from my beloved husband! I was on cloud 9! He totally turned my Day around!
Since it was my turn to schedule where we were going to celbrate i set up my parents to watch the rugrats and made reservations at Mesa bar and Grill (review to come) i loved it and so did hubs! Next year will be our big 5! Cant wait to see what the year brings us so until then A TOAST TO ETERNITY I LOVE YOU BABE !
- blogging on the go with my iphone!